Your Actuarial Back-Office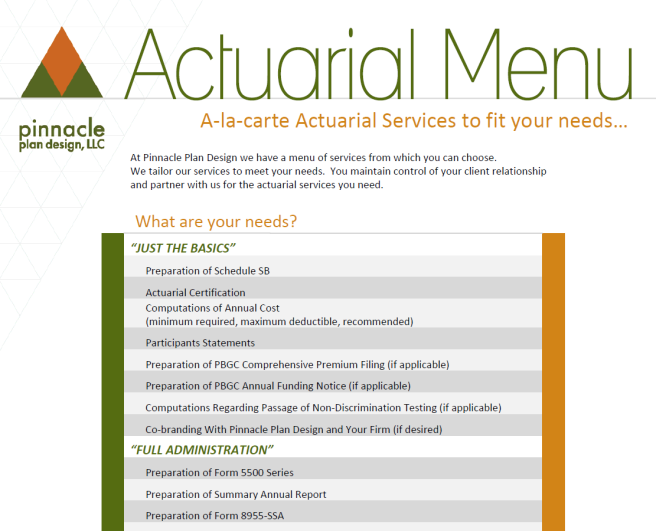 Pinnacle Plan Design can act as your actuarial back-office for any defined benefit work that comes your way, whether it is a traditional defined benefit plan, a cash balance plan, or a one-participant defined benefit plan. Further, we will work with you to prepare illustrations for your current and potential clients to show them the power of adding a defined benefit plan. View our Actuarial Menu for a list of the actuarial services offered.
six Enrolled Actuaries on Staff
Pinnacle Plan Design's actuaries, Kevin Donovan, Lisa Pfautz, Kevin Strauch, Lynn Young, and Andrew Forgrave have over 120 years of combined industry experience.
What our TPA Partners Like About Us
Quick turnaround
Access to new revenue streams
Mitigate risk of losing clients to another TPA
Pinnacle offers CPE seminars for ASPPA, NIPA and ERPA credit
"Pinnacle has an incredible ability to craft defined benefit plan designs to meet the objectives of our clients, offering consultation and guidance throughout the life of the plan…They have always been a valued partner in the service to our clients!"
---
Read more about our actuarial services